Article Published on Wednesday September 23, 2020 2:00 PM by Huffpost
Will There Be A Second Lockdown In England?
Tougher restrictions could be on the cards in England if people don't stick to the new measures and Covid-19 cases don't drop, the prime minister warned.
"If people don't follow the rules we have set out, then we must reserve the right to go further," Boris Johnson said in a speech to the nation on Tuesday. 
A handful of tighter rules are being introduced across England including: pubs and restaurants closing at 10pm, people being urged to work from home, customers and staff being made to wear face covers in shops, a ban on indoor sports, and, of course, people being told to adhere to the rule of six.
England is the only country in the UK that hasn't banned households mixing indoors. This comes after Professor Chris Whitty told the nation household transmission is one of the key ways the virus is spreading.
So, what are the chances of another proper lockdown? 
Do the new measures go far enough?
Professor Paul Hunter, an expert in medicine at the University of East Anglia, says the new measures "will certainly have some impact" on the transmissibility of Covid-19, however the question is whether or not these measures will be sufficient to reverse the increase in cases as we move into autumn.
It's "doubtful" that the measures will be sufficient to reduce the R value to below 1 before this side of Christmas, he says.
Meanwhile Professor John Edmunds, a member of Sage, said Boris Johnson's decision to impose a 10pm curfew on bars and restaurants was likely to have a "trivial" impact on the spread of coronavirus. "I don't think the measures have gone anywhere near far enough," he told BBC Radio 4′s Today programme. "In fact I don't even think the measures in Scotland have gone far enough."
Dr David Strain, senior clinical lecturer at the University of Exeter, wonders why England hasn't adopted a rule stopping households from mixing already. "The PM has acknowledged that the majority of transmission is happening socially, but has opted to continue to allow up to six different households to meet in an unregulated manner," he says.
Closing down restaurants and pubs earlier "will do little to stave the spread" as long as multiple different households can interchangeably meet up, he adds. The Times reported the measure was not recommended by scientific advisers and was adopted by No 10 in an imitation of Belgium's response to cases rising.
In Dr Strain's view, the rule of six needs strengthening ("or ideally replacing," he says) with a mandate that only a limited and nominated number of individuals can get together at all, and that movement between these groups should only happen with a quarantine period in between.
"This would allow for family units and support bubbles to prepare for significant celebrations such as Christmas and Diwali whilst maintaining other social interactions in the meantime," he points out.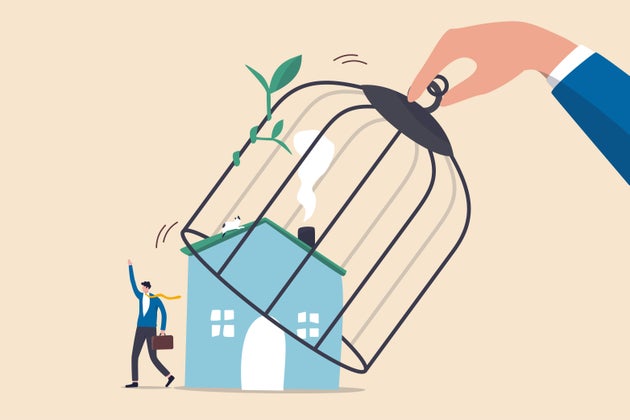 If the new rules don't curb the spread, what will happen?
At this stage, local lockdowns in areas where there are outbreaks – which essentially means no mingling between households, hospitality curfews and closures, but continuing to go to work and school – are more likely to happen than a full-on national lockdown. 
Aside from local lockdowns, it seems more likely the government will follow the suit of other nations and impose a national restriction on households meeting indoors in England rather than a national lockdown. But if we do go into lockdown, it's likely to be a so-called 'circuit break'. This means hospitality businesses will close early, or close completely, schools and workplaces stay open, and households will be urged not to mix, for a grand total of two weeks.
It was reported that scientists from the government's Scientific Advisory Group for Emergencies (Sage) had recommended a 'circuit break' should coincide with the October school half-term. "As schools will be closed for one week at half-term, adding an extra week to that will have limited impact on education," one member told the Financial Times.
For most schools in England and Wales, half-term will fall from October 19-23 or October 26-30, which gives the government a few weeks to make a move.
So it's unlikely we'll have a full-on national lockdown again?
Yes. A proper second lockdown – like the one we faced in March – is unlikely. Even if there is a lockdown, of sorts, the measures would most likely not stop people from working or children from going to school, due to the economic and mental impact.
"If we were forced into a new national lockdown, that would threaten not just jobs and livelihoods but the loving human contact on which we all depend," Johnson said in his speech. "It would mean renewed loneliness for the elderly and vulnerable, and ultimately it would threaten once again the education of our children. We must do all we can to avoid going down that road again."
What happens now largely depends on three things: the success of test and trace, the clarity of messaging going forward, and the public's behaviour.
Dr Rachel McCloy, an associate professor in applied behavioural science at the University of Reading, says there are lessons to be learned from the first lockdown. "While the simplicity of the 'stay at home, save lives' message worked, the complexity of the range of rules that followed as lockdown was relaxed gave the impression that the government didn't really know what was going on or how best to respond," she says. 
Some of this messaging has been simplified and "illogical loopholes" closed, she notes, offering the example that shoppers and retail staff now both have to wear masks. "To bring about mass public behaviour change, the government needs to keep communication clear and consistent, and to trust the public with the rationale behind the changes they are making," she says. "Rebuilding trust will be a vital part of this."
Trust is also a key cog in getting the test and trace system running smoothly. The contact tracing app is due to launch on Thursday and trust in the app is important in getting people to download it. Imogen Parker, head of policy at the tech thinktank Ada Lovelace Institute, told The Guardian: "In the UK, uptake is going to be related to trust in government. While we were doing some public work on trust over May, you had the Barnard Castle incident; after that you had the A-level algorithm. But the flip side is that the NHS brand itself is incredibly trusted."
Evidence suggests contact tracing in the UK is not improving, but getting worse. Just last week figures showed 69.2% of "close contacts" are being reached, the lowest weekly percentage since the service first launched. On top of that, Boris Johnson claimed testing and tracing has "very little or nothing to do with the spread and transmission" of coronavirus, after being confronted over the failures of the current system. However in South Korea, where the system is used, the virus has been kept largely under control.
Without public trust, it's unclear how effective new measures will be in reducing the spread of the virus. "The public is not going to blindly trust government advice when promises are broken over track and trace, comprehensive testing and PPE supplies," Dr Chris Papadopoulos, principal lecturer in public health at the University of Bedfordshire, wrote for The Spectator.
"It is largely because of these failures that we find ourselves in today's bleak situation."
Total Page Visits: 54 - Today Page Visits: 1
Photo of Will There Be A Second Lockdown In England? | All Text and Images are the Copyright property of Huffpost unless otherwise stated above. Where the Copyright ownership does not sit with Huffpost the text and images are used under the creative commons and fair use frameworks with the relevant credits offered.
Join Our Crimewatch and Community Pages:
Looking for a Supplier, Service or Shop Locally? Visit Our FREE Directory!
Advert
---