Article Published on Monday September 21, 2020 12:01 PM by Huffpost
This Is How Covid-19 Is Spreading In The UK Right Now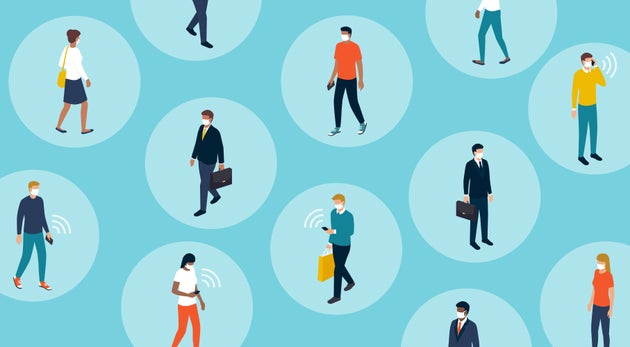 The spread of Covid-19 is picking up pace across much of the UK, with estimates that around 6,000 people are becoming infected each day. 
It's perhaps no surprise the virus is spreading once more, as the UK made great strides in getting back to some semblance of normal – children returned to school, adults went back to work, people were encouraged to "eat out to help out", and shops were open for business. After months of not seeing friends and family, Brits began socialising once more.
But the latest situation is that an estimated 70,000 people in the UK have coronavirus – and some estimates suggest the number of cases is doubling every seven days.
But what has been responsible for driving this spread? We've known for a while there was a threat of a second wave come the cooler months, as people head indoors to socialise. Is this to blame for Covid-19′s spread – or are there other key factors at play?
Speaking at a press conference on Monday, the UK government's chief scientific adviser, Sir Patrick Vallance, said an increase in case numbers over the past few weeks has translated to an increase in hospitalisations, and also deaths. "The virus has genetically moved a bit but it has not changed in terms of its propensity to cause disease and deaths," he said.
The biggest increase in cases has been seen among 20-29 year-olds followed by 30-39 year-olds, but there has been an increase among all age groups, too.
The lowest increase in cases has been among children and those aged 50-59.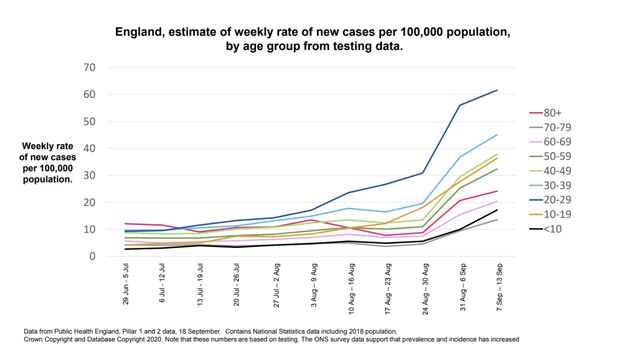 Sir Vallance said the rise in cases is not down to increased testing. Around 6,000 people a day are now getting the infection, he said, and "we are in a situation where numbers are clearly increasing across all age groups … and this increase in numbers is translating to an increase in hospitalisation". 
"What I'd like to do is remind you of how quickly this can move," he said. 
If the cases keep rising unabated, by mid-October, we'd see up to 50,000 cases per day, he explained, and this could lead to a minimum of 200 deaths per day in November.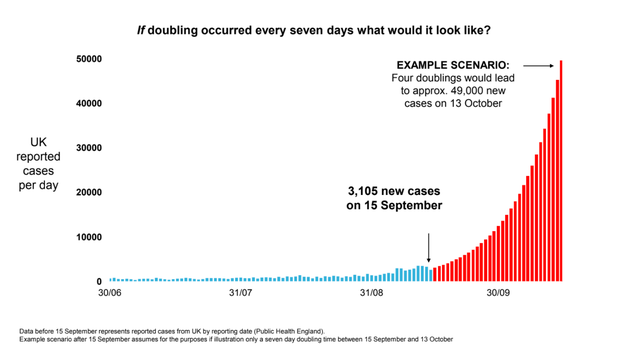 How is Covid-19 spreading?
Chief medical adviser, Professor Chris Whitty, highlighted household transmission as a key way the virus is being spread. "We have to break unnecessary links between households because that is the way this virus is transmitted," he said.
Studies from the early stages of the pandemic have also confirmed that household transmission seems to be the most likely way to catch Covid-19.
This is because one of the key ways Covid-19 spreads is through close contact interactions between people – so that's hugging, kissing, standing or sitting close (within six feet) to each other.
We have to break unnecessary links between households because that is the way this virus is transmitted.Prof Chris Whitty
The virus can spread in droplets and smaller aerosols which are expelled from the nose and mouth when a person is chatting, laughing, singing and even breathing. These particles can then be inhaled into the nose, mouth, airways, and lungs of others, and cause infection.
When different households get together, it's all too easy to relax the rules a bit because you're with people you trust – but it could be lulling people into a false sense of security. And the longer you spend with another person who is infected with Covid-19, the higher the risk of catching the virus is.
There's been much debate about whether the virus could be airborne – meaning it lasts in the air for periods of time. New guidance from the Centers for Disease Control and Prevention (CDC) in the US acknowledges there's growing evidence that droplets and airborne particles can remain suspended in the air and be breathed in by others, and travel distances beyond six feet (2m). The World Health Organisation (WHO) has also said airborne transmission of the virus can't be ruled out. 
This is why there have been concerns about the virus spreading more as we head into the cooler months – people are more likely to socialise closely indoors, in poorly ventilated areas (especially as you don't tend to open windows in winter), and the virus has lots of potential to do the rounds. 
The virus can also spread through touching contaminated surfaces, although this is thought to be a less common route for it to spread than close contact. That said, it drives home the importance of regularly washing hands, as you could catch Covid-19 by touching a surface or object that has the virus on it, and then touching your own nose, mouth or eyes.
How can we combat the spread?
Prof Whitty urged people to remember: 'Hands, Face, Space' to prevent the spread of the virus. This means washing hands regularly, wearing a face covering in indoor public places and keeping 2m away from others at all times. 
Individuals with symptoms of Covid-19 must self-isolate, he said, and their contacts should also isolate: "This is an absolutely critical part of the response."
There are ways you can safely socialise indoors – even if it might feel slightly unusual at first. Such measures could include: wearing a face mask, considering different seating arrangements, opening the windows, not sharing food, and maintaining good hand and surface hygiene.
"Avoid crowded indoor spaces if possible, where there is poor ventilation and where people are unlikely to be wearing masks, like bars, pubs and restaurants," said Dr Julian Tang, a consultant virologist and Professor in the Department of Respiratory Sciences at University of Leicester. 
"If there are many people inside, the probability that someone may be infected is higher and the smaller air volume is less able to dilute the virus."
Total Page Visits: 56 - Today Page Visits: 1
Photo of This Is How Covid-19 Is Spreading In The UK Right Now | All Text and Images are the Copyright property of Huffpost unless otherwise stated above. Where the Copyright ownership does not sit with Huffpost the text and images are used under the creative commons and fair use frameworks with the relevant credits offered.
Join Our Crimewatch and Community Pages:
Looking for a Supplier, Service or Shop Locally? Visit Our FREE Directory!
Advert
---