Article Published on Thursday September 3, 2020 11:00 PM by Huffpost
Is 'NHS Test and Trace' Undermining The NHS Brand?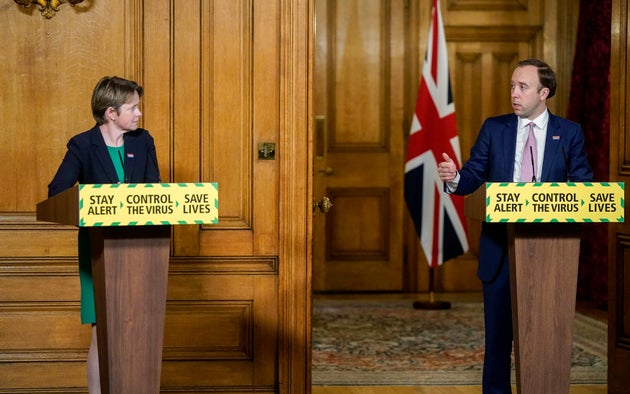 You're reading The Waugh Zone, our daily politics briefing. Sign up now to get it by email in the evening.
Testing times
For many people, checking out Grant Shapps' Twitter feed has become as much a part of the traditional British summer as rain at Wimbledon or prime ministers pointing at fish. Every Thursday, the transport secretary's social media account hangs like a sword of Damocles over hopes of a foreign family getaway.‌
Will we have to race home on Saturday, or Sunday? Should we bite the bullet and quarantine for a fortnight on return? Why the hell didn't we book a campsite in the Peak District? Well, tonight, for once, there was good news as Shapps granted an effective one-week reprieve for English people with holidays in Portugal and Greece.‌
But within minutes of Shapps' tweet the Welsh government decided it was going to impose quarantine on those returning from Portugal and seven Greek islands after 4am on Friday, and later the Scottish government said it would impose restrictions on Portugal and French polynesia (nice hol if you can get it) after 4am Saturday.
Now, the real curio here is of course that all of these countries are basing their decisions on exactly the same information, provided by the Joint Biosecurity Centre. Normally, the countries opt for a mainly UK-wide approach but tonight there are real cracks in the consensus.
Did Shapps avoid new restrictions because of the political nightmare of having only weeks ago taken Portugal off the 'red list'? Was it another U-turn too far? Or were Wales and Scotland overreacting, and not giving enough notice to holidaymakers?
Well, technically speaking Portugal does have a higher Covid rate than the 20 cases per 10,000 people that is meant to be the benchmark for quarantine (it's now at 23, up from 15 a week earlier). Yet Shapps seems to be cutting the country some slack for other factors such as how well outbreaks are contained and extent of testing.‌
The point of the quarantine is to avoid 'importing' covid from countries with worse rates than the UK's. And today health secretary Matt Hancock stressed how different we were from much of Europe, saying that our cases were "broadly flat", compared to the "big second spike" affecting nations like France, Spain, Croatia, Austria and the Netherlands.
But as the UK recorded 1,735 new cases of coronavirus today – the highest daily total since 4 June – "broadly flat" felt more like "slowly climbing". Hancock admitted "we are very worried" about a second spike, but said that the reason the UK was faring better than some countries was "partly because of our test-and-trace system working so effectively, partly because of the quarantine and social distancing policies".
When asked specifically about NHS Test and Trace, Hancock said "let's be clear, that's going well". Just a few hours later, when the weekly stats were published, the service showed its lowest ever "close contact" rate (at 69.4%, the first time it's dipped below 70% and well below the 80% that all experts say is needed to make the entire system viable).
Now there are valid reasons for the low "close contact" rate, not least the problem of some family members and others failing to provide contact details. Once contact details are provided, the hit rate rises to above 80%, insiders point out.
Yet Test and Trace chief Dido Harding and ministers don't do themselves any favours by trying to always present the figures in the best possible light. They will always give a global figure for the number of people asked to self isolate since the service began or its overall contact rate for those three months, rather than admit the current week's figures are going in the wrong direction.
To be fair, it's harder to trace people in the open community rather than specific closed settings like hospitals or care homes. But the gap between local public health teams (which reached 97.3% of contacts) and outsourced online and call centres (which reached 59.8% of contacts) is a bad look. The latest 'rationing' of regional centre tests has further undermined confidence in the system.
Add in the different success rates on turning round tests within 24 hours (NHS hospitals are well over 90%, but mobile test centres and drive-through test centres are at 53.2%) and you can see why some in the health service are increasingly worried that 'NHS Test and Trace' is undermining the NHS's brand.
Many suspect that Hancock came up with the title to graft some credibility onto the new service, even though it is directed by the department of health and isn't formally part of the NHS at all (and Serco call handlers certainly aren't). Stick the NHS logo on something and public goodwill dramatically rises. However, the problems with tracing close contacts are now so endemic that some in the DHSC are just hoping the long-awaited smartphone app will get numbers up.
For all Boris Johnson's emphasis on "world beating" testing being crucial to containing the spread of the virus, there also seems to be an air of realism creeping in. Hancock stressed that "Hands, Face, Space" (wash hands, wear a mask, keep your distance) were "the first line of defence" and testing second. Senior sources say that "Hands, Face, Space" is likely to remain in place for a long time and testing isn't a "silver bullet" that will solve all problems.
The huge increase in testing capacity since April is not to be dismissed lightly. But it seems that it is local public health tracers who are now driving the best bits of the system. As for the outsourced call centres, if 'NHS Test and Trace' fails to improve its performance in coming weeks, maybe it's time to drop the fictional 'NHS' nametag for good. 
Quote Of The Day
"We have the cavalry of the vaccine, which is still coming towards us but it isn't here yet."
Matt Hancock
Thursday Cheat Sheet
The UK recorded 1,735 new cases of coronavirus, the highest daily total since 4 June.
The row over former Aussie PM Tony Abbott intensified after Keir Starmer said he had "real concerns" about his views on women, LGBT rights, climate change and a string of other subjects. Trade secretary Liz Truss defended him.
Cabinet office Minister Chloe Smith has distanced herself from her husband's comments on Covid-19, which he described as "most likely an outbreak of mental illness".
Shadow cabinet office minister Rachel Reeves appeared to backtrack after having told SkyNews that Scottish Labour leader Richard Leonard "needs to think about his position" amid dire poll ratings.
Heathrow Airport told staff they must take a pay cut of 15-20% or face job losses. It issued formal section 188 notices, allowing it to potentially fire and rehire some 4,700 employees.
Commons leader Jacob Rees-Mogg played 'Rule, Britannia!' from his phone during Business Questions.
Boris Johnson made a "short drop-in" to a meeting of Foreign Secretary Dominic Raab and President Trump's son-in-law Jared Kushner, the prime minister's spokesman said.
What I'm Reading
Can Biden's Centre Hold? – New Yorker 
Got A Tip?
Send tips, stories, quotes, pics, plugs or gossip to [email protected] 
Subscribe To Commons People
Each week, the HuffPost UK Politics team unpack the biggest stories from Westminster and beyond. Search for Commons People wherever you listen to podcasts and subscribe.
Shadow education minister Emma Hardy tells us that if Gavin Williamson does delay exams, he needs to think about recruiting extra markers now – and getting more tutors into deprived areas. Hear former teacher Emma chew the fat with us about schools, covid and Labour's poll ratings.
Total Page Visits: 104 - Today Page Visits: 1
Photo of Is 'NHS Test and Trace' Undermining The NHS Brand? | All Text and Images are the Copyright property of Huffpost unless otherwise stated above. Where the Copyright ownership does not sit with Huffpost the text and images are used under the creative commons and fair use frameworks with the relevant credits offered.
Join Our Crimewatch and Community Pages:
Looking for a Supplier, Service or Shop Locally? Visit Our FREE Directory!
Advert
---