Article Published on Monday September 14, 2020 7:00 AM by Huffpost
I'm A White Teacher. This Is How I'm Bringing Anti-Racism Into My Classroom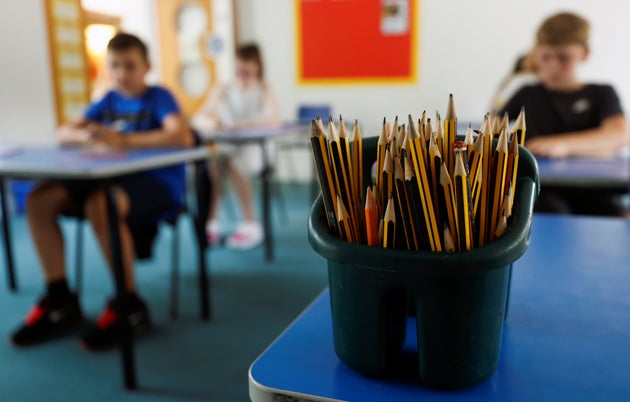 Schools across the UK this month make the transition from virtual classrooms to 'the new normal', and concerns around the pandemic are rife.
As a primary school teacher I have my own worries about how best to support pupils and their families after lockdown, while negotiating safety for all and social distancing in a small classroom. At the start of term, my school provided three days of staff training regarding the recovery curriculum, safeguarding and Covid-19 hygiene measures.
This was all necessary and important. But something was missing, and it was troubling me. Throughout the three days, not one member of the (all-white) senior leadership team made reference to the recent surge in the Black Lives Matter movement and the urgent conversation we must have on the crucial role schools have in dismantling institutionalised racism. I don't doubt that it is on their mind, but perhaps they are not ready to admit that the school, where the majority of our pupils are Black or people of colour, is racist.
This academic year is my fourth at this school. When I started there as a Teach First participant, I was keen to change the world. I was of course a little naive about how schools, and the larger institutions they are part of, work. It quickly became clear that I had a huge amount to learn and that, despite my best intentions, I was unaware of the racism that I was perpetuating in my classroom.
We do not reflect the diversity of our students and, to my knowledge, this has never been widely acknowledged by the school.
Racist language from pupils was expected to be reported, but was rarely addressed. The curriculum and many resources were mostly limited to representations of white people and white history, with Black History Month consisting of a token nod to Rosa Parks and Martin Luther King. The staff body, the board of governors and the visitors we have in school, are mostly white. We do not reflect the diversity of our students and, to my knowledge, this has never been widely acknowledged by the school. In practice, this means our Black students do not get to make meaningful school-based connections with adults who look like them and thus, reinforcing the same racial hierarchy our society needs to dismantle.
This will not do.
Doing the work to be an anti-racist educator is the same as doing the work to be an anti-racist person, and then some. I'm determined to detach our school systems from their colonial legacies and redefine them with restorative justice and progressive practices at the heart whilst acknowledging my privilege and removing my ego from the process. Even my training, with its seemingly progressive emphasis on 'grit' and 'growth mindset' enabling all students to succeed, ignores and thereby reinforces structural inequalities and is rooted in white supremacy. There will be difficulties in making radical changes to education in this country, but there are no excuses.
Despite no guidance from my leadership team, I am aware that it is ultimately my responsibility to undo the racist procedures in my classroom. When I met my new class this week, I explained that the school behaviour systems they were used to would be different this year.
Most primary schools use a behaviour management system (or a variation of) called 'Stay On Green'. All children start each day with a green card next to their name and they can receive silver or gold cards as rewards and yellow, blue or red cards as sanctions. There seem to be no agreed consequences of a silver/gold card, but a yellow card results in some lost playtime and a blue card means you are sent out of the classroom.
sending a child out of the classroom and excluding them for their learning never helps. Worse, it contributes to systemic racism
A red card means that you are sent to the head teacher, who, despite being progressive-ish for a white, middle-aged Catholic, is pretty punitive when it comes to punishment. What I have come to understand is that sending a child out of the classroom and excluding them for their learning never helps. Worse, it contributes to systemic racism. Research has shown that Black Caribbean and biracial Caribbean-white children are three times more likely to be excluded than their white peers, and that this cycle of exclusion can start early.
I asked my new class how they feel if they are sent out of a lesson. 'I'm sad', 'I feel embarrassed' and it 'makes me more angry' were their responses. When a cycle of shame sets in for a child, it can be hard to break. So what is the answer? Together, we decided that if they are struggling or angry, they can take time in the book corner and focus on some deep breathing. When they are ready to talk about what happened, we will work together to find an outcome that values them and any other children involved. This won't be easy – teacher time is split between up to 30 children and resources are sparse – but I know it's a step in the necessary direction. 
Overhauling a school behaviour policy can take years. That considered, there are some simple ways to start making the classroom an anti-racist place: books featuring positive portrayals of people of colour should not just be in the book corner but used to plan lessons too; making resources that are intersectional takes no longer than it would to make one that was not – it is just a question of mindset; asking the office to buy blue or transparent plasters is important so that children are not given a 'skin-coloured' plaster nothing like the colour of their skin.
I know first-hand how much teachers already do for the children and young people they teach. This may already include some anti-racist practices and so I imagine many (namely white teachers) will have a hurdle in acknowledging that they need to do more. But in education there is love. And in love, there is a way.
Ivy Barnes is a primary school teacher from London, writing under a pseudonym
Have a compelling personal story you want to tell? Find out what we're looking for here, and pitch us on [email protected]
Total Page Visits: 51 - Today Page Visits: 1
Photo of I'm A White Teacher. This Is How I'm Bringing Anti-Racism Into My Classroom | All Text and Images are the Copyright property of Huffpost unless otherwise stated above. Where the Copyright ownership does not sit with Huffpost the text and images are used under the creative commons and fair use frameworks with the relevant credits offered.
Join Our Crimewatch and Community Pages:
Looking for a Supplier, Service or Shop Locally? Visit Our FREE Directory!
Advert
---