Article Published on Sunday September 27, 2020 7:01 AM by Huffpost
Don't Tell The Bride's Biggest Disasters, 10 Years After The Infamous Vegas Wedding
For the last 13 years, we've been watching Don't Tell The Bride through our fingers, as a parade of hapless grooms do their best (most of the time, at least) to give their cherished fiancées a wedding they'll remember.
And while all of them have succeeded in making their big days memorable in some way or another, not all of the on-screen weddings stood out for the right reasons.
One that is frequently cited as being one of the most shocking episodes in the show's history is that of Simon and Kaleigh in 2010.
Kaleigh, you may recall, wanted a family-oriented wedding near their home, but ended up being flown across the world to Las Vegas, where Simon put together a flash wedding he could only actually afford to send a select few of their friends and family to.
It's now been 10 years since the infamous episode aired, and to mark the not-so-glamorous (but probably quite fitting) tin anniversary, we're looking back at the most shocking, cringe inducing and just plain wrong weddings to ever feature on Don't Tell The Bride…
10. The darts wedding (Chelsey and Liam, 2018)
Over the years, plenty of grooms have been guilty of prioritising their own passions over the couple's shared interests when it comes to a wedding theme, and that's exactly what happened when Liam decided to plan a darts-themed bash for his fiancée, Chelsey.
Not only did the bridesmaids' dresses consist of oversized dart board t-shirts, it was darts legend Bobby George who conducted the ceremony. When he finally turned up on time, that is. 
9. The Thorpe Park wedding (Kayleigh and Steve, 2011)
Fair play to Steve, he did actually have good intentions when he decided to host his and Kayleigh's wedding at Thorpe Park – the place they'd had one of their earliest dates, and he'd realised that she was the one for him.
Still, though. Expecting your bride – who, by the way, hates thrill rides – to go on the park's scariest rollercoaster on her own IN HER WEDDING DRESS was always going to be a tall order. Even if it wasn't raining. 
8. The elf wedding (Georgia and Liam, 2020)
A recent addition to the Don't Tell The Bride vaults, poor Georgia was already in tears when she saw the wedding dress that had been picked out for her, complete with its festive red bow, and that was before she'd even seen what her bridesmaids would be wearing.
"I'm not getting married if you're all dressed like this," she warned the bridal party, after her emotional mum admitted that she felt Liam had made them all "look stupid". She wasn't wrong, to be fair. 
7. The skydive wedding (John and Jackie, 2012)
Do you ever get the feeling someone has literally only agreed to go on Don't Tell The Bride just so that Channel 4 will pay for them to do a skydive? Even though their bride-to-be absolutely heights?
To give John some credit, Jackie not only went through with the skydive, she ended up loving it (sort of… she did still say she felt like punching her new husband "for making me do this on our wedding day").
6. The cruise wedding (Kelly and Mark, 2015) 
Children's entertainer Kelly (who, fun fact, became Kelly Kelly after she got married) wanted a glamorous, princess-esque wedding day, to take her out of her normal life.
What she got was a sparsely-attended ceremony in a cruise ship theatre, which opened with her new husband doing a Frank Spencer impression.
And let's not even talk about that hotel overlooking a petrol station Mark booked Kelly and her family in ahead of the wedding… 
5. The pig wedding (Steph and Billy, 2017)
This was so obviously a bad idea we can't believe that no one along the way stepped in to get Billy to reconsider.
The red flags were there when Billy splurged two grand on his stag do and sent Steph on a night out to their local pub – but our favourite part was when the bride (who'd always maintained she didn't want her wedding to be "a joke") first clapped eyes on her porcine wedding guests.
"I thought you liked pigs," Billy offered, sparking the immortal line: "Yeah but not this much." 
4. The Ibiza wedding (Alex and Luke, 2016)
One of those rare moments we do end up feeling sorry for one of the grooms, Luke picked Ibiza as the venue for his and Alex's wedding, because that's where they met when they were both working out there.
Unfortunately, he didn't quite think things through.
Alex hated her dress, Luke left their UK-based registry office service halfway through with no explanation, and despite guidance from a very level-headed best man, Luke let planning the big day get to his head, leading to an Ibiza-based emotional breakdown.
Still, Alex eventually ended up enjoying her beach-based ceremony, even if it wasn't exactly what she had in mind.
3. The wedding that Channel 4 pulled the plug on (Chanise and Yanis, 2019)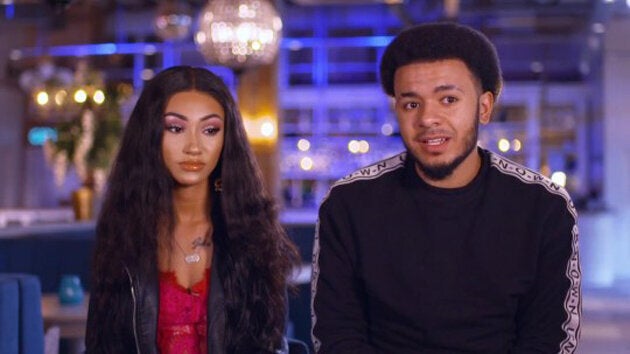 Chanose and Yanis made history in 2019, after producers found out that she had gone directly against the show's rules by finding out information about what was being planned for her wedding.
While it meant that we were deprived of the usual wedding, the episode did turn the cameras on the show's production team, treating viewers to a peek behind the curtain of how Don't Tell The Bride works.  
2. The wedding that wasn't (Sofia and Craig, 2018)
Over the course of this episode, Sofia changed her mind multiple times about whether she'd even be going ahead with her wedding, first based on the dress (which she threatened to change out of at a KFC), and later when she found out the reception was Oktoberfest-themed. She didn't even drink beer.
In case you were wondering, a message at the end of the episode revealed: "At the time of making this programme Craig and Sofia had decided not to make their wedding legal and were working together on their relationship."
Ouch.
1. The big one (Kaleigh and Simon, 2010)
It could have been so different. Before settling on Vegas, Simon took a trip to a local casino, and let the roulette wheel decide whether he'd be taking the trip to the bright lights of Sin City, or staying local, as Kaleigh wanted.
Suffice to say, Las Vegas won out.
There were plenty of tears when Kaleigh found out where the wedding would be going ahead, and even more when she discovered how few of her family would be coming with her (her sister, who was supposed to have served as made of honour, refused to come, because of the snub to her brother).
Don't Tell The Bride is available to watch on All 4.
Total Page Visits: 61 - Today Page Visits: 1
Photo of Don't Tell The Bride's Biggest Disasters, 10 Years After The Infamous Vegas Wedding | All Text and Images are the Copyright property of Huffpost unless otherwise stated above. Where the Copyright ownership does not sit with Huffpost the text and images are used under the creative commons and fair use frameworks with the relevant credits offered.
Join Our Crimewatch and Community Pages:
Looking for a Supplier, Service or Shop Locally? Visit Our FREE Directory!
Advert
---